Frequently asked questions:
How does the HottMitt fit to a trolley?
The HottMitt is secured by two simple elasticated Velcro tabs.
These stretch from the thumb compartment to the underside of the palm of the mitten.
This allows you to hold the trolley handle as usual, but stops it from falling off when you remove your hands.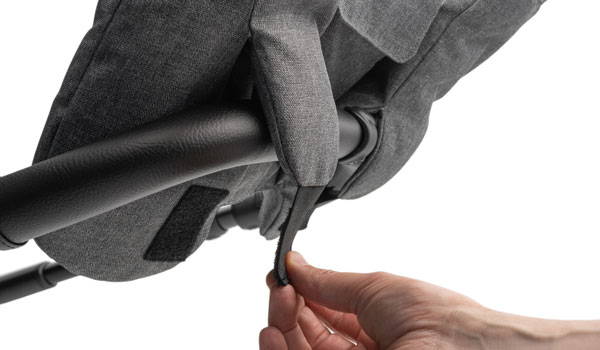 Why is there a 5 minute timer?
During testing we found that 5 minutes of heating delivered the perfect amount of warmth.
The button will glow red when the heater is on, so if you still need additional warmth after the first 5 minutes then just press the button and it will restart the timer.

Using a 5 minute timer means that you won't use battery power needlessly, which in turn means that you're more likely to have power when you need it.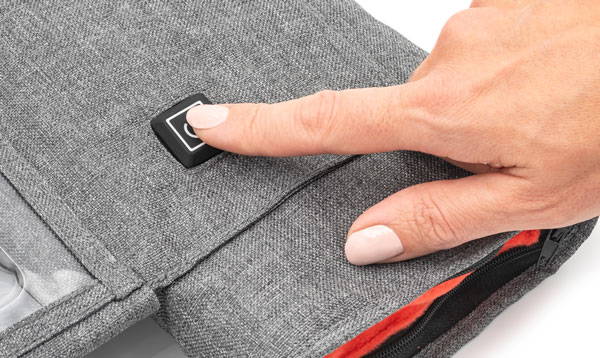 How long will the battery last?
The battery that is supplied has a capacity of 5000mAh. Each 5 minute burst of heating uses approximately 3-5% of the battery capacity which means you have around 20-30 bursts before you use up the whole battery.
A modern mobile phone battery is approximately 2000mAh-2500mAh, so you could charge a phone fully twice with a full HottMitt battery.
In reality you will use a combination of these functions.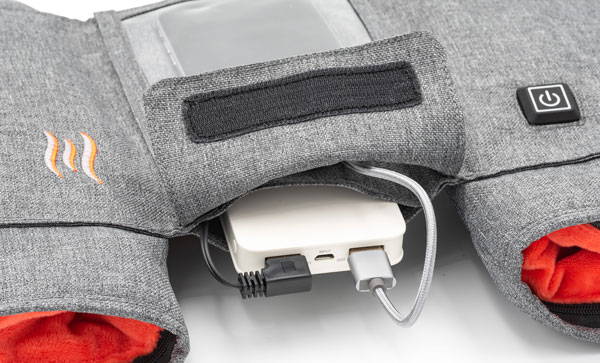 Will my phone fit in the HottMitt?
The ClearTouch window is 95mm wide and 150mm tall, so if your phone is no larger than that then you can use it in the HottMitt.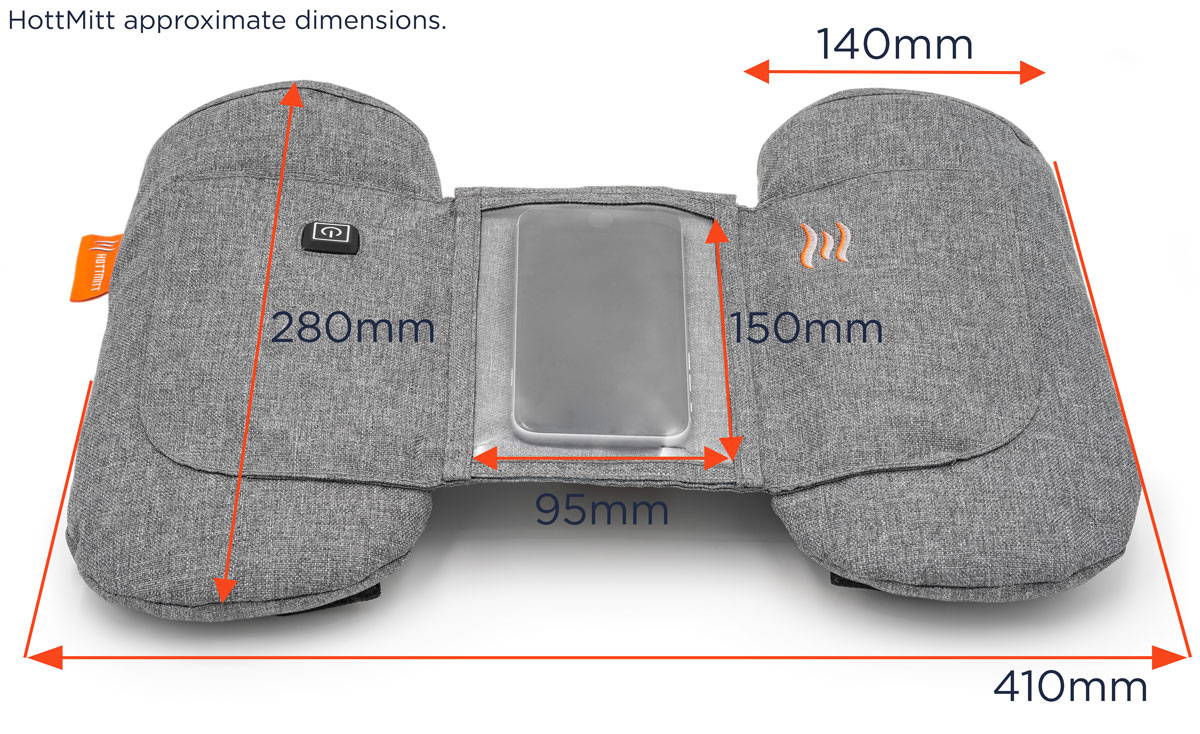 Will all of the functions work through the ClearTouch window?
The ClearTouch window allows you to use a touch screen as you would normally.
Some phones (such as the iPhone 8) have a button that needs a human touch to operate it, so this function won't work.
We have tested face recognition functions and they appear to work as normal.

Can I wash the HottMitt?
The removable orange inner lining is machine washable (refer to the label).
The grey outer of the mitten is NOT machine washable as it contains electronic components and heating elements. If you need to clean the outer mitten you should just use a damp cloth and soapy water.
Note that washing the outer mitten may effect the water-resistant coating.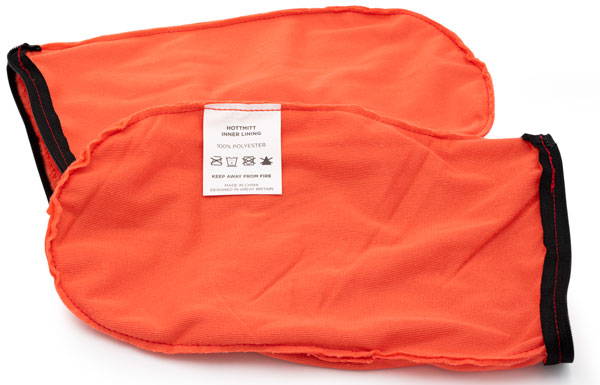 How water-resistant is the HottMitt?

The HottMitt has a water repellent coating which will keep the inner of the mitten dry during rain showers.
Note that HottMitt is not 'waterproof'.
Please note that the coating that is applied to the outer mitten is guaranteed for 12 months, but its effectiveness will reduce naturally over time.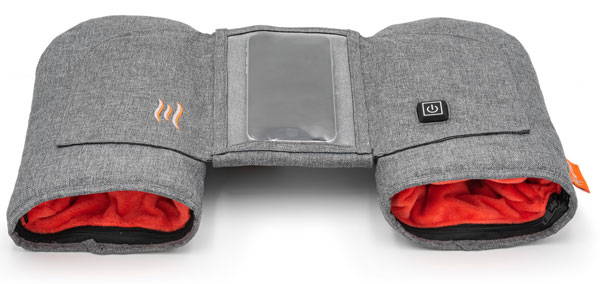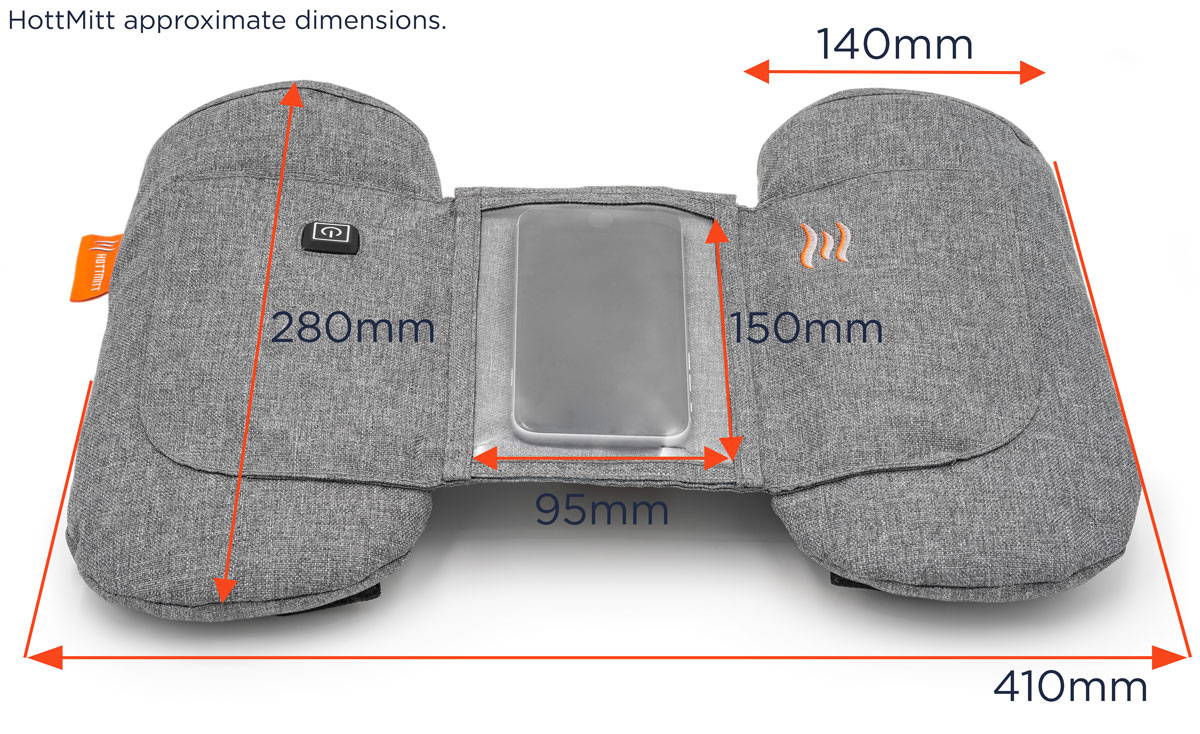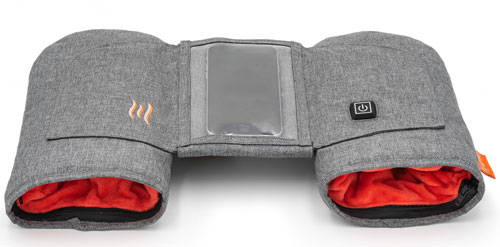 In the (beautiful) box, you will find:

1 x HottMitt
1 x 5000mAh HottMitt USB battery pack

1 x USB charging cable
1 x User guide