THE TOUR CADDY EXPERIENCE
It's often been said that the X9 Follow is the closest thing an amateur golfer will get to their own personal caddy, but is this true?We spoke to European Tour Caddy Steve Brotherhood to find out.
Steve (or 'Bro' to his friends) is the founder of the Tour Caddy Experience, a company that gives amateur golfers the chance to really know what it's like to have an professional on the bag.
As well as being a scratch golfer himself, Steve has been on tour since 2004. Winning the Dunhill Links at St Andrews among other titles, Bro knows a thing or two about managing a golf course.
About the Tour Caddy Experience.
If you are looking to lower your scores, play better golf, get more enjoyment for golf or simply experience the unique 'tour experience' on offer then the 'Tour Caddy Experience' is for you.
Golf is a sport of intricacies and a small mistake can have a big effect on your mental state, golf score or even the results. A professional caddie provides that all important input and advice and this is now available to all golfers with the 'Tour Caddy Experience'.
The 'Tour Caddy Experience' caddies are available around the UK ready to offer their wealth of knowledge and experience to help coach your game. Amateur golfers can truly get an experience that is second to none.
Can the X9 Follow Improve your game?
A recent survey of Stewart Golf customers certainly suggested so. 95% of X9 Follow owners say their trolley is an important part of their golf equipment. It's easy to see why when two-thirds of them reported an average handicap reduction of 3 strokes!
In addition to that, 88% feel more relaxed, 90% say they walk less distance, 80% say they have more preparation time and 95% would recommend one to a friend or colleague.
The extra edge Follow mode gives you so much more in terms of being relaxed when walking between shots and so much quicker between greens and tees it's clearly worth every penny.
STEWART GOLF SPECIAL OFFER
As a Stewart Golf customer, you can claim 10% off your first booking. Just mention our name when you make the booking and you'll also get a £50 voucher for Clogau.co.uk at the same time.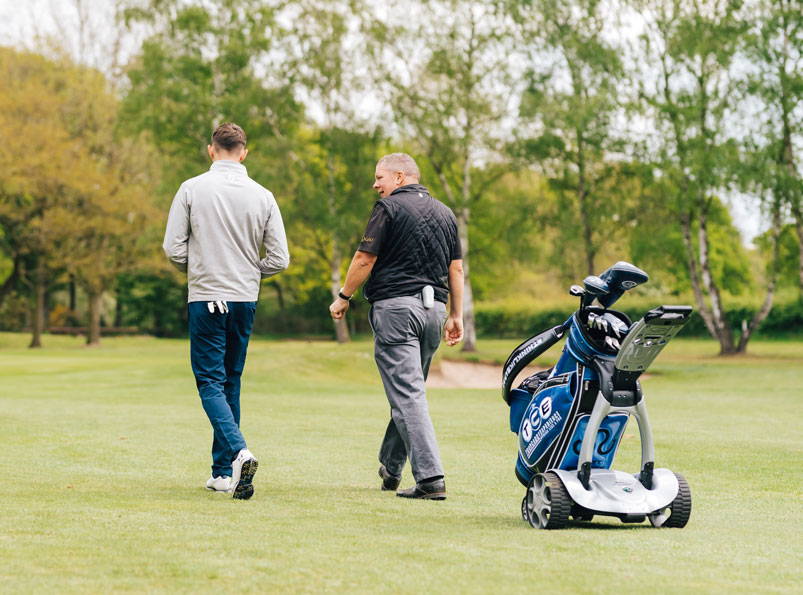 10% OFF
Mention Stewart Golf when you book your TCE session, and you'll get 10% OFF the price of the booking.
10% OFF
Mention Stewart Golf when you book your TCE session, and you'll get 10% OFF the price of the booking.